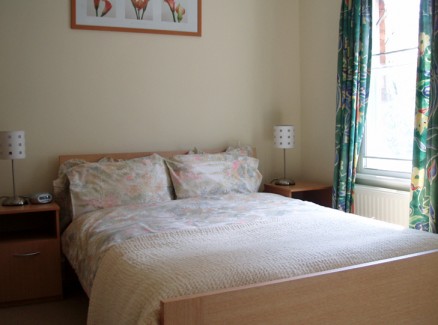 Bloomsbury, Covent Garden, WC1B
Bloomsbury Street Flat Q
An attractive and modern apartment block in Bloomsbury, an area famous for being in the heart of Central London's Zone 1 and home to the British Museum and British Library. Within walking distance of Covent Garden and all the restaurants, bars and shops of the West End, Bloomsbury Street is the perfect base for your trip to London.
Enquire
Gallery
Share
£600 – £1000
per week

1


bedroom
1
bathroom
Sleeps

2
Overview
A comfortable and well-equipped one-bedroom apartment on the third floor of an attractive apartment block. With double-glazed windows and modern furnishings throughout, your stay here is sure to be relaxing and enjoyable.
Key details
Third floor apartment with lift access
Entry phone
Bedroom with 4'6″ double bed and fitted wardrobes
Bathroom with shower over bath
Lounge/dining room with sofa, table for 2, digital TV and telephone
Fully fitted kitchen with microwave and washer/dryer
Free WiFi
Enquire
View terms
Terms
We reserve the right to change your Apartment if circumstances dictate but we guarantee a comparable apartment or one of a higher standard at the same rate.  This will only be in extenuating circumstances ie fire, flood, owner's decision to sell the flat  – in this situation we will always try our hardest to find the best comparable apartment we have available.
For lets of all lengths we require a Security Deposit – 1 week's rent for short stays and  up to 8 weeks' rent for a 6 month short hold tenancy. The deposit also acts as a booking deposit to secure your booking. This will be refunded after the let, less any deductions  – telephone calls, exit clean (for lets over 2 weeks), excess electricity usage and any damage.
If your arrival is on a weekday (Mon – Fri) within office hours (9:00 – 17:00) there is no charge for  key pick-up. If your arrival is between 17:00 and 19:00  on a weekday, or 09:00 – 19:00 on a Saturday, there will be a charge of £50 for someone to meet you with the keys. The charge after 19:00 on a week day and Saturday, and all day on a Sunday or on bank holiday is £60. For very late arrival on any day (after midnight) the rate will depend on the eventual time of arrival
Cancellation Policy (updated 12-3-17): If you cancel your let more than 10 weeks before arrival we will not charge you. If you want to cancel before this 10 week period, please make sure you do so by email within UK office hours ie before 1700 UK time.  If you cancel less than 10 weeks before arrival then you are liable for the full rent. However, if we can re-let for any of the days of your let we will not charge you for these days.
If paying by bank transfer,  any banking charges at either end of the transaction are the responsibility of the tenant
All our apartments are No Smoking and the Head Leases on the apartment blocks do not allow pets.
Where the option exists to change twin beds to a super king, there is a one off surcharge of £50 for this.